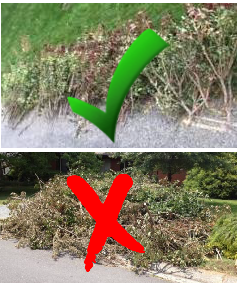 Spring yard waste collection is scheduled by district with no registration required.
The 2020 Spring Program is as follows:
District I:   Collection south of and including Ridge Road the week of May 18
District II:  Collection north of Ridge Road the week of May 26
Here are a few important reminders about the program:
Have your yard waste out by the curb by 7 a.m. of the first day of your collection; once the truck passes it WILL NOT return.
Leaves or grass clippings are NOT permitted; tree branches and brush only. No bags allowed.
Place tree limbs and branches in neat piles at the edge of the road or driveway.
Branches are limited to six (6) feet long and no greater than five (5) inches in diameter.
Piles for pick-up are limited to four (4) feet wide, four (4) feet high, and six (6) feet long.
Township employees and/or equipment are not permitted to enter private property to remove items.
If you miss the curbside collection or have additional yard waste, the East Rockhill Township Drop-off Center is open Monday through Saturday, from 6 a.m. to 9 p.m. and on Sunday, from 6 p.m. to noon for township residents and residential personal recycling only; commercial landscapers are not permitted. The center is monitored electronically, and violators will be prosecuted. Please do not leave bags with the leaf and yard waste.