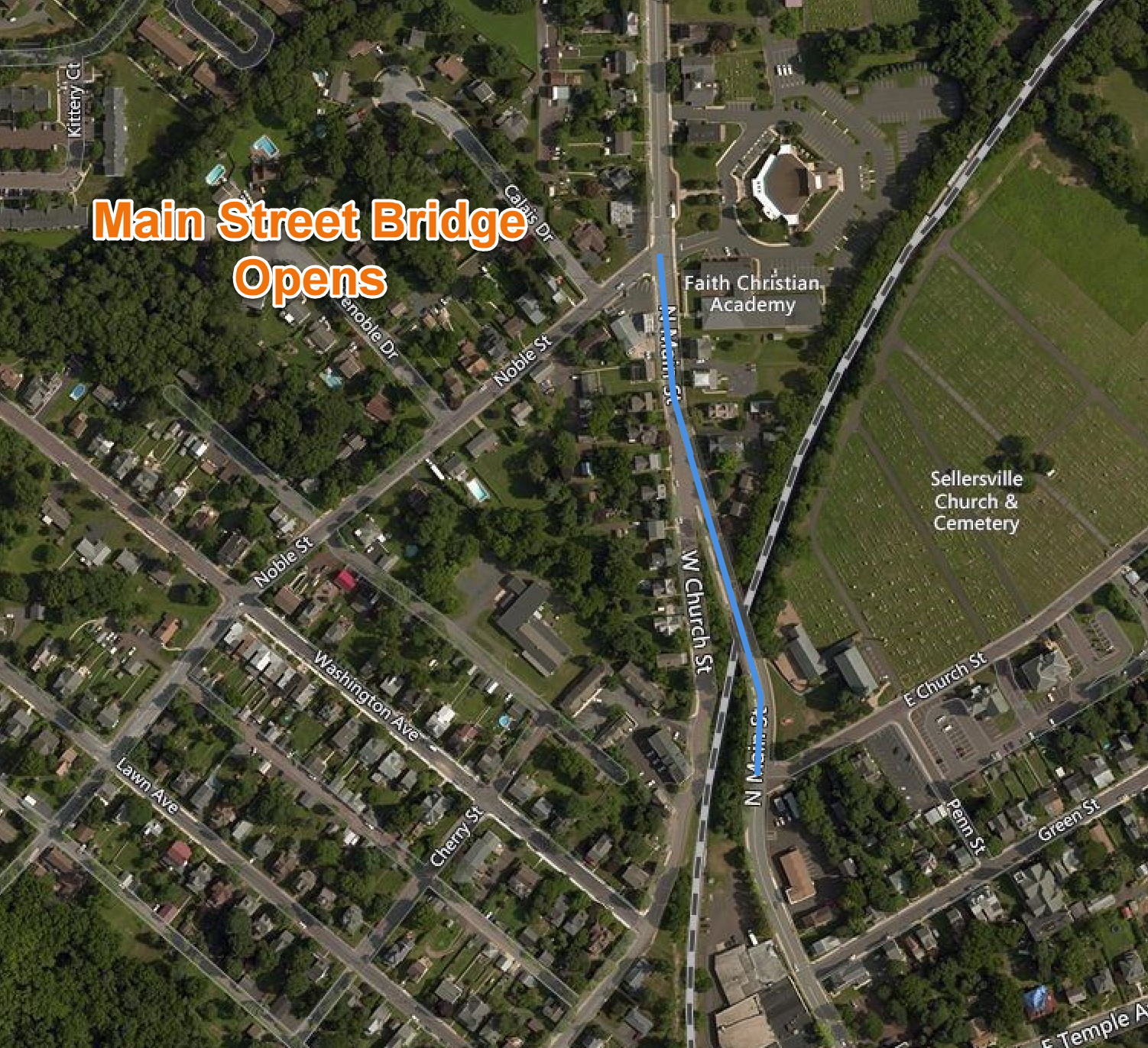 Nov 2, 2020
Road Maintenance
The Pennsylvania Department of Transportation (PennDOT) has reopened the bridge carrying Main Street over SEPTA-owned tracks in Sellersville Borough, Bucks County, following the completion of a bridge rehabilitation project.  
August 2019:  Construction to Rehabilitate Main Street Bridge in Sellersville Borough August 2019 to October 2020
Construction is scheduled to begin on Monday, August 19, on a project to rehabilitate the Main Street bridge that carries two lanes of traffic over SEPTA-owned tracks in Sellersville Borough, Bucks County.
"PennDOT is committed to improving our transportation network which means ensuring our bridges can handle the volume of expected traffic as communities continue to flourish," said Governor Tom Wolf.
Beginning Monday, August 19, Main Street will be closed and detoured between Noble Street and Church Street for bridge construction operations. The closure is expected to be in place through October 2020. See below detour map. During the closure, Main Street motorists will be directed to use Route 563 (Ridge Road), Route 309 and Route 152 (State Road). Pedestrians will be directed to use Noble Street, Lawn Avenue and Maple Avenue.
Local traffic will be maintained up to the construction zone. Drivers are advised to allow extra time when traveling near the work area because backups and delays will occur. All scheduled activities are weather dependent and subject to change.
This project was driven by the need to rehabilitate the bridge, originally built in 1927, which is in a deteriorated condition and considered structurally deficient. The bridge is currently posted with a weight limit of 15 tons.
Loftus Construction, Inc., of Cinnaminson, NJ, is the general contractor on the $4,695,000 project which is financed with 100 percent state funds. The entire project is expected to finish in the fall of 2020.